wedding photos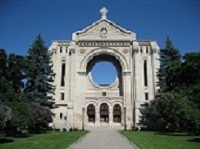 We are pleased to offer the possibility of taking your wedding photos in the beautiful historical site of the Cathedral. If you are interested in reserving a time slot for your photos, please call the secretary at 233-7304 or email reception@cathedralestboniface.ca as soon as possible, even if you have not found your photographer yet. The time slots are an hour long and overlap by half an hour. The cost for one hour is $100. It is always possible to book for more than an hour. In this case, the fee would be pro-rated. We accept payments by credit card, interact, cheque, or cash. You can come and pay in person at the parish office or mail a cheque to: Paroisse de la Cathédrale, 180 de la Cathédrale ave, Winnipeg MB, R2H 0H7.
If you choose to mail a cheque, we will mail you a receipt.
In order to secure your time slot, please provide us with the full names of the bride and groom, as well as a phone number, and the name of your photographer if you already know it.
Wedding photo site reservation agreement
In the event of rain, the photo session may not proceed inside the Cathedral.
Cancellations:
Due to rain

: The payment will be refunded, less a 10% administration fee, provided the claim for reimbursement is made in the 10 business days after the reserved date.

For other reasons

: The payment will be refunded, less a 25% administration fee, provided the claim for reimbursement is made at least 30 days before the reserved date.

By the parish

: The parish reserves the right to cancel a reservation with no prior notice because of a funeral or other last-minute event. In these circumstances, the payment will automatically be refunded in full.
All reimbursements will be by cheque

only

.
Responsibilities:
The person booking the photo session is responsible for any damages to the site caused by the wedding party and will compensate the parish. The following are strictly prohibited:
the use of confetti
the consumption of alcohol on church property
The parish will not be held responsible for:
unscheduled repairs
intrusions by persons on the premises
obstacles and encumbrances
accidents
cleanliness of the premises
barred access to the washrooms
any incident that may hinder the progress of the photo session
Can I be married at the cathedral?
The Cathedral is a place of worship, and is not like a hall to be rented out. In keeping with teachings of the Catholic Church, a wedding ceremony should take place inside a church in order to maintain its sacred character. Weddings therefore don't take place in the ruins. As our parish community is francophone, weddings ceremonies are either celebrated in French or are bilingual. Thank you for your understanding.