Welcome
The St. Boniface Cathedral-Basilica, Mother Church of Western Canada and historical site of Manitoba, was established in 1818 in the Archdiocese of Saint-Boniface.

Its impressive cemetery, iconic facade and architectural beauty makes it a beautiful place to visit, and its welcoming parish community looks forward to meet you.
welcome!



We invite you to come visit this magnificent historic iconic architectural structure located in the heart of the City of Winnipeg, across from The Forks.
Welcome!
Father Marcel Carrière, Pastor
Start your canada day off right!
Join us for a huge multicultural diocesan celebration. We'll start off with a multicultural and multilingual mass presided by His Grace Albert LeGatt, where different ethnic groups from different parts of our diocese will be well represented. This will be a mass unlike any you've ever attended before! The festivities will then continue outside with music, dancing, and songs from different countries and cultures. There will also be a huge potluck lunch for which we invite everyone to bring a traditional dish from their own culture.
RENOVATION AND REDEVELOPMENT PROJECT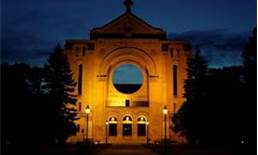 This basilica, Mother Church of Western Canada, is a place of worship, one of the greatest emblems of the City of Winnipeg, a popular tourist attraction, as well as a major architectural and artistic symbol in St. Boniface, Winnipeg, and Manitoba.
Subsequent to an engineering evaluation of the existing structure major structural deficiencies were identified that need immediate repair in order to ensure this historic building can be preserved and protected for future generations.

The total cost of the renewal and renovation project is estimated at 6.0 million dollars.

Help us attain our fundraising goal by making a contribution today. Thank you !

Please refer to the Renovation Project page under the News section for more information, bulletins, photos, and news clips.
Check out the latest news by clicking onto the News section of the site.
Videos
Theatre in the Cemetery
Theatre in the Cemetery is no ordinary guided tour. Join the cast of In Riel's Footsteps, and experience a theatrical experience that makes learning about French Canadian and Métis heritage fun and exciting. For more information, visit their website.